A Horse Drawn Hearse has a stately elegance that no other funeral vehicle can quite match. We can provide black or white Hearse and Horses with a variety of plumes and drapes to personalise your cortege, giving a real sense of occasion to the funeral. The most popular choice is two black horses with a black carriage giving a sense of gravitas proceeding before the funeral cortege. Should you wish to have a horse drawn funeral then it is traditional for children and infants to have white horses and a white carriage and all staff wearing formal white gloves. Please don't hesitate to give us a call if you have any questions regarding Horse Drawn vehicles.
For pricing on Horse Drawn Carriages please see our Bespoke Quote page where you can see all pricing for two and four horse carriages in black or white. There you can select whichever carriage you wish along with every other detail of your funeral for an immediate and full quote with no hidden costs.
Our Services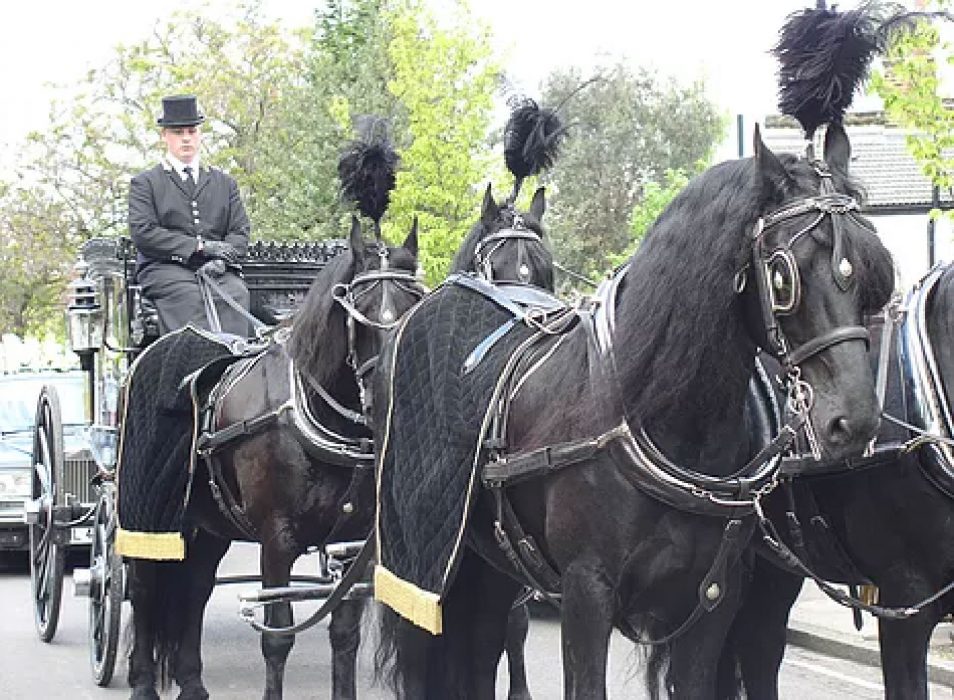 Available with two or four horses the 'Black' is a dramatic statement for a bold and stunning farewell.
Black horses in plumes and full regalia pulling a black hearse will stop traffic and pedestrians and elicit respect from many people along the route. We have observed that the presence and the novelty of the horses at a funeral also relaxes people, gets them chatting and is a real benefit for children who are allowed to approach and pat the horses. Our professional coachmen and highly trained teams ensure a smooth, beautiful and serene experience offering great respect and dignity.
Our team of white hearse and horses is a graceful and elegant final salute, a testament of beauty and peace
The combination of equine strength with the tranquility of a white team and carriage brings an unshakable sense of calm dignity to a funeral. Heads will bow and conversations will stop as the cortege passes and the coffin proceeds in a palpable eddy of quiet respect. Whether you choose black or white horses, all of our teams are highly trained and child friendly and add a profoundly memorable quality to any funeral.
For your cortege we maintain a small fleet of pristine Mercedes Hearses and Limousines to transport the deceased and the funeral party in traditional solemnity.
More information